Have you ever imagined a life without calendars? Worse still, what would happen if one day, all the world's calendars suddenly became extinct? Sure enough, we would be clueless and helpless. Calendars are part of us and have been around since the beginning of civilization.
Calendars have been in use for over 2000 years. Our forefathers had already discovered times and seasons and hence used this tool to plan for planting, harvests, hunting among other tasks. Today, it's not any different.
Basically, the primary role of calendars is to help us keep track of time and help us get organized. Used well, this important tool has the capability to transform your life for the better.
So, how can you use it well?
1) Use only one calendar
Unless you are using the calendar for décor purposes, devote yourself to only one calendar. By using a single calendar, it's easy to know when you are free or booked, thus helping you to make quick decisions that will impact on your productivity. Using multiple calendars can easily make you a victim of double-booking appointments or forgetting about important meetings.
2) Record appointments immediately
Missing an appointment destroys your credibility. It's easy to make amends with friends and family but your customers and business partners might never give you another chance. Well, emergencies happen but that would require you to get in contact and explain your situation. However, to be able to do that you must know the appointment you had.
In the past, I have overrated my memory that I would remember all appointments without recording them down. The resultant was missed appointments which almost ruined my reputation. To make sure that you do not fall a victim to such, always record an appointment immediately you make it.
3) Add a little more information
Have you ever checked your calendar, seen an appointment but have no idea what it was about? This happens when you scribble very shallow details about a meeting. In such cases, you end up shuffling through your notes to find out the specific purpose of the meeting. This is not only stressful but it wastes a lot of precious time. Some of the key information you should consider including in the appointment include, the name of the person you intend to meet, contact details, location, agenda of the meeting, a link to the person's website, brief notes from the meeting you had previously and a list of information you need to revise before the appointment date.
4) Keep checking your calendar.
Make it a habit to always check your calendar every day. If you have meetings, events or appointments to attend, it is necessary that you get prepared well in advance. Every day, take a good look at your calendar to see what is coming up in the next few days. It's also crucial that you check out the schedule for the next few weeks especially if some of those events require a lot of preparation. You might have made some of these bookings months ago and therefore, it can be very easy to forget what is coming up. Remember to always look back a couple of weeks in your calendar to rule out anything you could have forgotten. The sooner you know about it, the earlier it is to make amends.
2022 Monthly Calendar Templates
1) Superhero Monthly Calendar
Kids too need to understand the importance of time and planning. However, it will be hard for your toddler, preschooler or 1st-grade daughter/son to use the same type of calendar as you. To help them keep track of important dates like holidays and birthdays, the superhero monthly calendar will come in handy. Every month of the year features a different superhero- batman, superman, Spiderman, the flash and more. Additionally, the calendar will not only help your child learn about days, weeks, months and year but the cute superheroes will bring smiles on their faces too.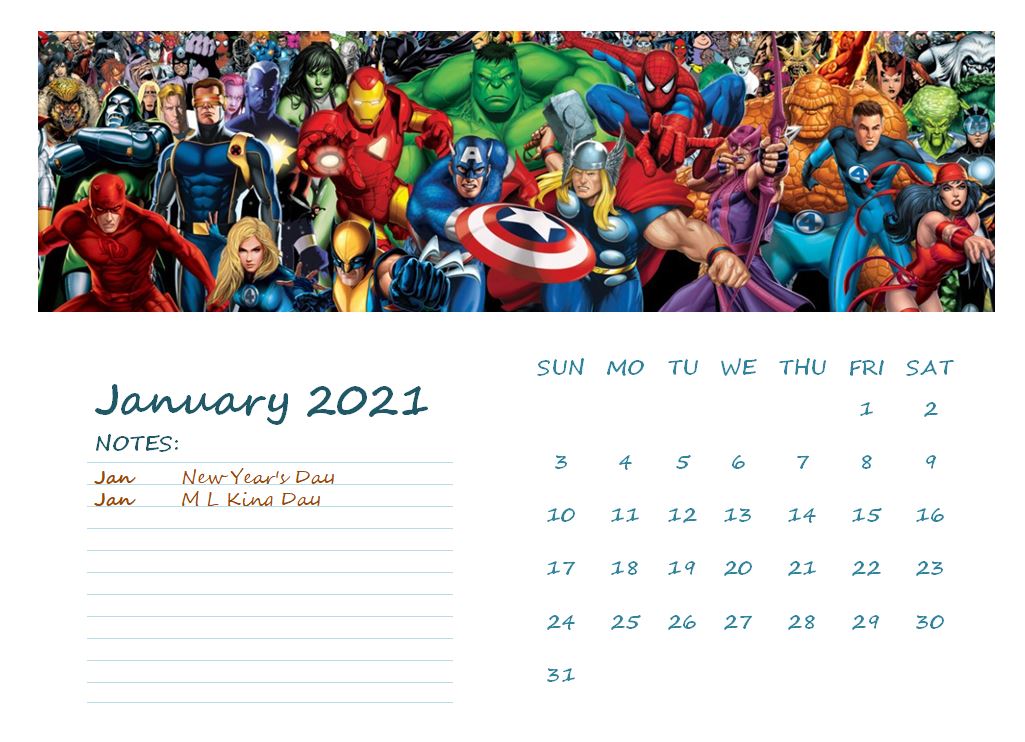 2) Cute Monthly Calendar
At one point in life, I was a teacher. In fact, I was a classroom teacher for four good years. It is during this period that I realized how important organization is to students. A student who is organized performs well in-class activities while at the same time getting more free time to spend with loved ones.
This super cute monthly calendar is what every student needs to keep track of their schedules. The right corner of every month has a special spot where you can list down exam schedules, homework, assignments, and project due dates to ensure that you will no longer suffer from late submissions and missed deadlines.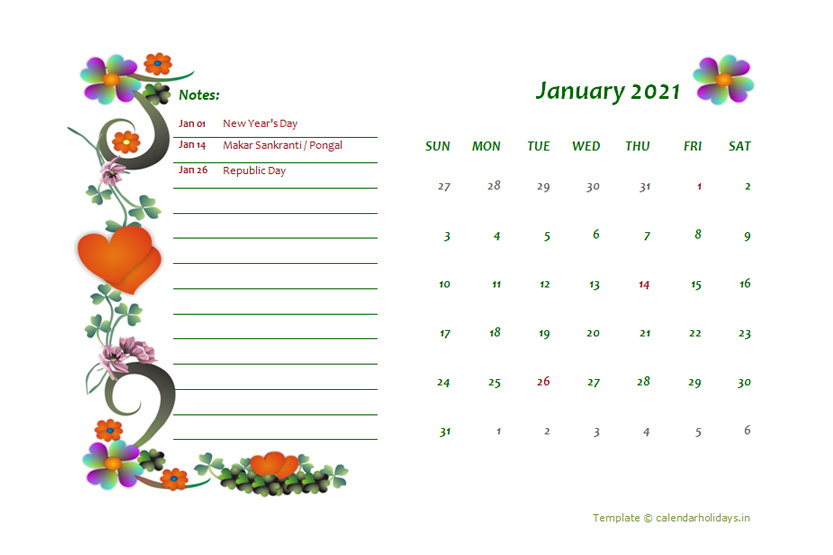 3) Colorful Monthly Calendar
With shades of purple, aqua, blue and pink, this colorful calendar is great for organizing your life month in month out. Each page of the calendar features a single month. Additionally, the page contains an inspirational quote to keep you motivated through your monthly goals and dreams. Through the notes section, you can easily keep track of your appointments, holidays, diet tracking, meal planning, and note-taking.
The calendar is also awesome to keep track of your sports schedules, workout log, medications you could be taking, fertility and family planning. It is also a great calendar for students to keep track of school homework and projects.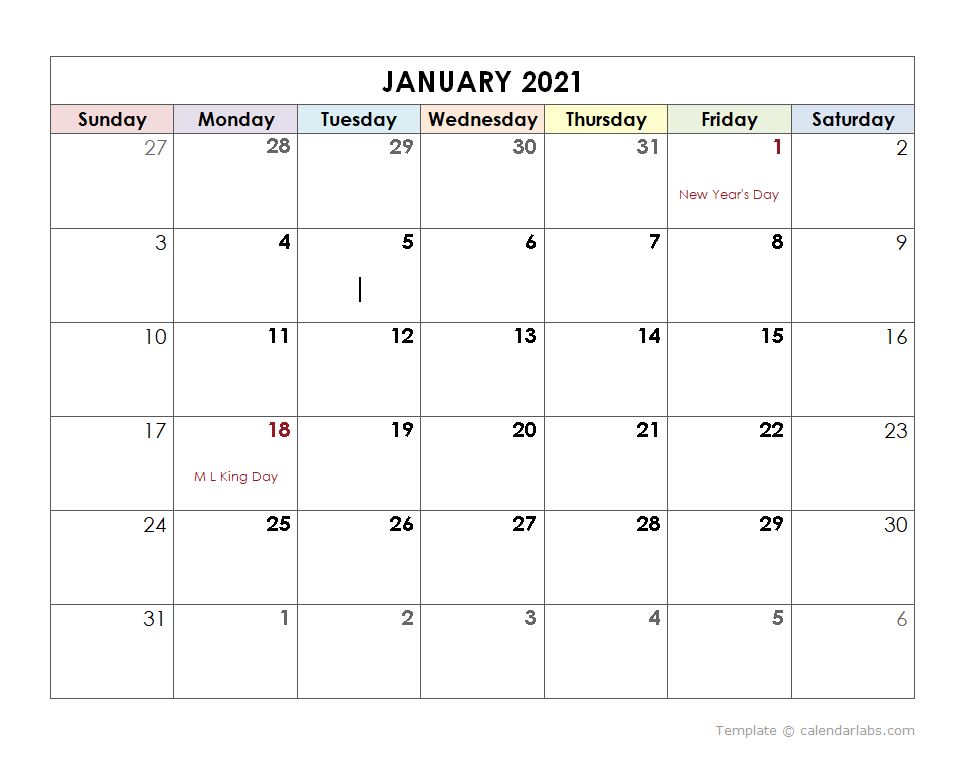 4) Classic Monthly Calendar
Although this calendar features a single month on each page, the contents captured are quite numerous. To help you reflect on the previous month and plan for the upcoming one, this design has the preceding and succeeding month featured. The US federal holidays for the month are also clearly highlighted. The key section of this calendar is on the right corner. Here, you can note down your date and time of appointments as well as the person you will be meeting.
This colorful calendar feels like a special planner of its kind. The preceding and upcoming month is well stipulated on the left and Right lower corner for your personal reflection. The public holidays are also highlighted against the day and date they fall in. In the lower middle, there is enough space for you to put your notes, to-do lists and projects in writing.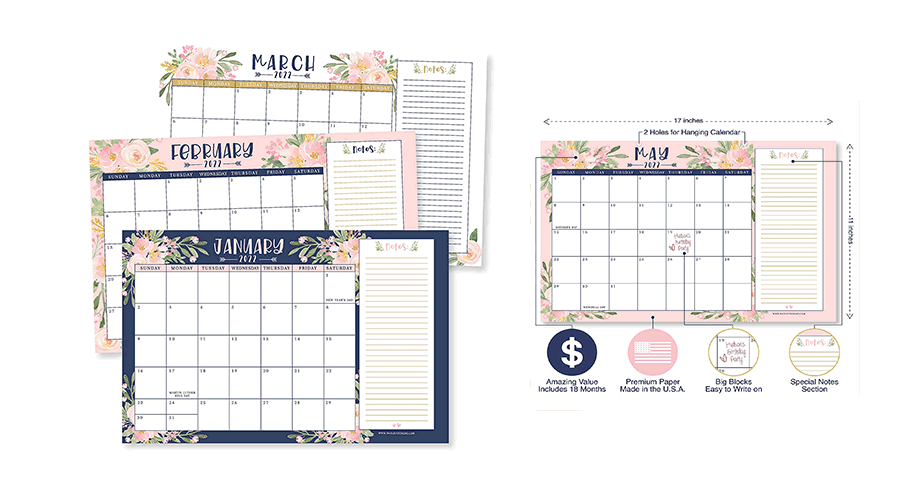 Conclusion
Creating the above monthly calendars was a roller coaster of an adventure. I had to make sure that I give you the best. It's now your turn to make good use of them to boost your productivity. Used well, the calendars are great for maximizing your productivity. The purpose is to take off the burden from your memory so that you don't stress the brain. It's my hope that they will help you prioritize, stay on focused and of course, remind you to take a break.