Are you the kind of person that gets to the end of the month but can't clearly point to something that you have really accomplished in the past 30 days? It's actually demeaning when you have been actively working for that entire month yet it becomes hard to even highlight a single thing what you have been working on.
A few years back, I only lived with daily to-do lists. Well, that helped me to take each day at a time. However, I soon realized that this only put me in an autopilot mode. You know, just doing the same things day in day out. In a big way, this not only hindered me from making progress on great things that matter but also prevented me from achieving bigger goals and long term priorities.
Today, I have changed the trend. I plan my months ahead of time. I treat each month as if it's a new day. Once a month comes to an end, I sit down and analyze the month that was. This personal review helps me assess what I have accomplished and then set my goals for the upcoming one.
Indeed, I can attest that monthly planning has improved my productivity. It would my joy to see you succeed. So, here are a few things you need to keep in mind when doing your planning.
On matters relationships; spend time with people who improve your life and keep off negative ones who just suck the energy out of you. On that note, remember to make a network list of great people who contribute to your productivity and allocate them time to spend with when making your planner.
Prioritize your health; you'll agree with me that a healthier you mean more energy when it gets to work. So, ensure that you have enough sleep every day, a balanced diet and do some physical activity each day.
Have fun; a happier you will translate more productivity. In addition, fun not only prevents you from burning out but it's also a good way to recharge after a tiring schedule. If you are not sure of the best way to have fun, try learning a new skill, make a list of movies you would like to intend or better still, plan a quick weekend trip.
Keep learning to keep growing; each month, pick a theme and learn as much as you can about it. For instance, this month, my theme is productivity. I have gathered books by different authors, podcasts, articles and subscribed to several online courses. Reading and learning from multiple sources has really helped me to keep growing and see the bigger picture in various aspects of life.
Differentiate horrible goals and the great ones. When I started keeping a monthly planner, this is the part I failed terribly. I would plan so many things but a month later when I did a personal review, nothing or little was done. I wouldn't want you to start off as I did. So, ONLY have a list of things you are sure are achievable within the 30 days timeline. For instance, losing 30lbs in a month'' is not really just like 'becoming smarter' is a vague goal.
The Summer Month Planner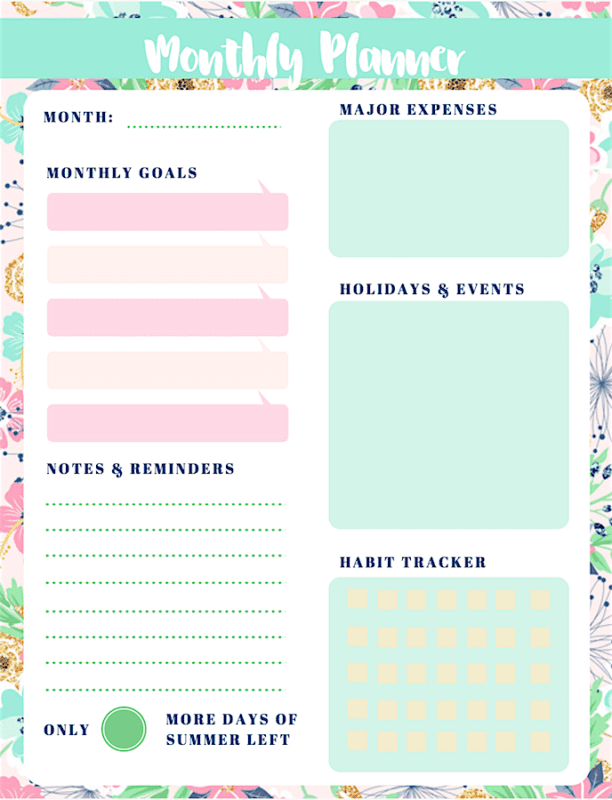 This floral planner is what you need to keep track of your schedule during the summer season. Summertime is quite tricky since mostly all we want is to relax. But since work must be done, then this planner will help you remain focused.
It captures all of the information as a monthly snapshot on a single piece of paper. The floral planner includes the top 5 goals to accomplish each month, important dates to remember, major expenses that will incur in a month, tracking the progress of habits, notes & reminders, and also an end-of-summer countdown.
While it's essential to be productive during the summer months, it's equally important to enjoy the season with your family as much as possible!
Deluxe Monthly Planner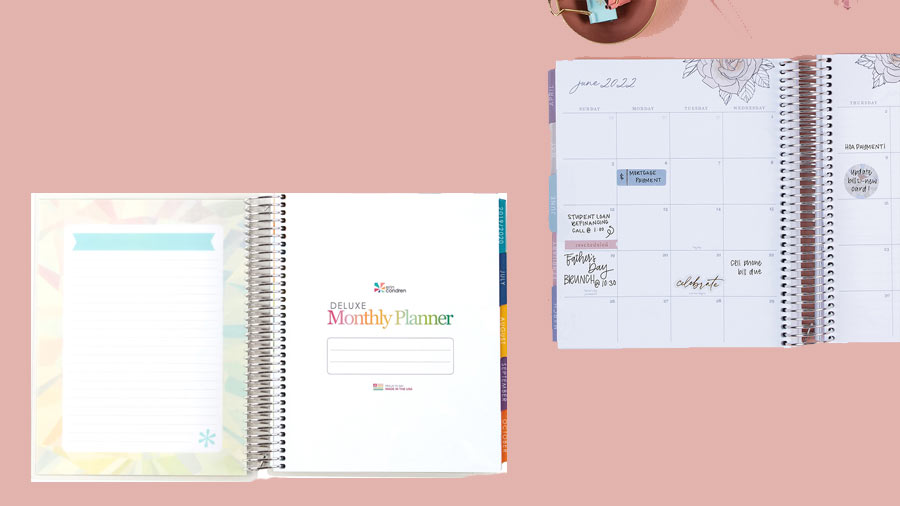 Erin Condren Deluxe Monthly Planner is exactly the best fit and function flawlessly. Use a Deluxe Monthly as a goal planner, and it has been an amazing tool and helps to set, track, and manage goals. The Deluxe Monthly Planner consists of 12 months of two-page calendar views, interleaved with lined note pages so that you can get organized and increase productivity.
Customers will love using the monthly planner for special projects like budgeting, fitness tracking, or goal setting. It's helpful to hear the different ways a planner can function, so the Deluxe Monthly Planner use as a health & wellness tracker, Menu planner, budget planner, goal planner, etc. It includes12-Months of Planning with 40 Lined Note Pages plus the Option to Add More.
Blue Sky Stay Chic Planner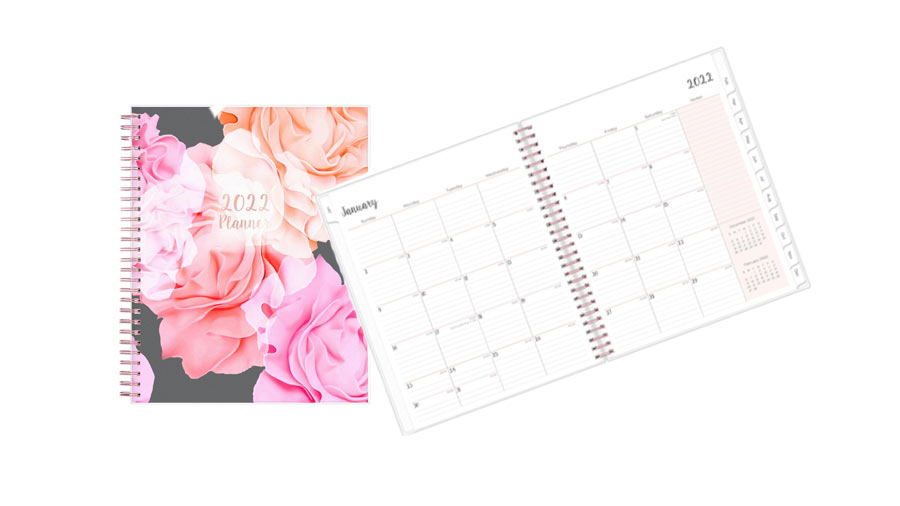 Stay Chic Planner is a professional planner with a sense of style. This is the latest collection from Blue Sky designed for inspired planning. 2022 planner features a River Rose, rose gold foil embossed hardcover and includes sentiments, goal making, a storage pocket, currently loving checklists and magnetic bookmarks for trendsetters who love to organize.
It has open writing space for the weekly and monthly layouts, and dedicated sections for notes and currently loving checklists. Stay Chic planners assist to curate a strategy and design your days with effortless style. This planner is just for them who want to have fun but keeps their finger on the pulse of what's new and trending, this is the monthly weekly planner for you. It includes Checklists, Notes Sections, Monthly Recaps, and Goals Settings.
Feeling excited by Stay Chic! It also adds Stay Chic Stickers to the personalized planner. This 5-sheet set comes in a classic palette of black and white with gold foil details. It includes 5 Page Sticker Set,12 Monthly Spread Square Sentiment Stickers, and 3 Pages of Icon Stickers.
At-A-Glance Monthly Planner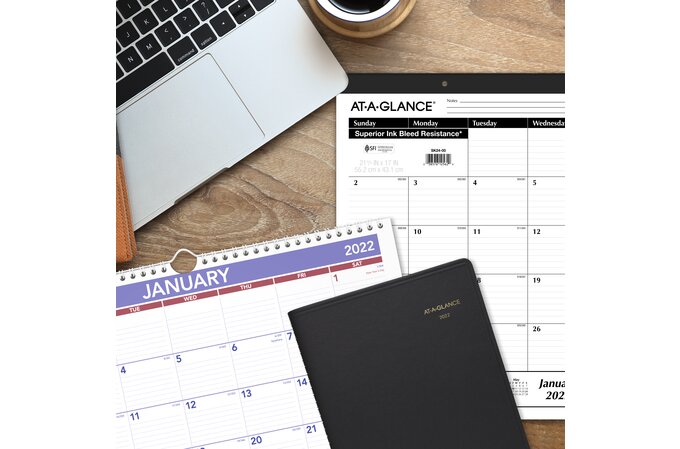 At-A-Glance 2022 monthly planner is great for long-term planning, each month covers two pages. It features unruled daily blocks for open scheduling and six months of reference calendars. The classic planner has a premium, black, simulated leather cover, and twin-wire binding which helps to keep pages secure for continued use. Keep track of important deadlines, special events, and more with the simple organization.
It also helps to expand your organizational skills with special pages. It captures all of the information, which includes the telephone/address page, a perforated memo section, and a double-sided pocket to store loose sheets.
Lemore Monthly Planner
Lemore Monthly Planner helps to keep track of your schedule during the year. This planner features 12 months of weekly/monthly pages marked with holidays. Weekly and Monthly sections of the planner help to manage life efficiently by achieving your goal perfectly. It comes with 16 months of 2022-2023 calendar stickers.
2022 monthly planner uses the past and future monthly references in the previous planning pages and the Notes column for your to-do list and important projects. The planner has a durable crosshatch leather with hard skid resistance cover. The planner provides unruled monthly pages and ruled weekly layouts for detailed planning.