Don't I just miss my childhood! Why? Because tasks were well scheduled for us. You know, we woke up, took breakfast and went to school. After school, we took part in our favorite sports, did homework, had dinner and within no time it was time for bed.
Fast forward.
Years later, I'm all alone to manage my time, shape each day and have all the tasks done. It's at this point in life that most young people get completely lost.
Personally, I struggled with time management the first few months I was away from home. Things were falling between the cracks and I was always swimming under an overwhelming pile of to-do's and obligations.
Things took a turn around when a friend introduced me to weekly planning. As a result, every Monday morning, I'm always aware of how 95% of my week will look like. This has not only given me control over my life but it also equips me a with bird's eye view of the trivial weekly plans and goals.
So, how do you ensure that your weekly planning REALLY works?
Plan your week before it starts
I always plan for planning time. How interesting? But sure enough, I plan my upcoming week to get a headstart before it kicks off. Nothing gives me more satisfaction than waking up in the morning knowing too well of what to expect in the upcoming week. It makes it easy to focus on important things in life and less likely to get into activities and projects not aligned with my goals.
Add buffer times in your schedule
Planning has many advantages, but over planning every other second of your day can make you run behind the schedule. It's therefore very important that you account for buffer times when planning your week. Some of the tricks could include adding an extra fifteen minutes to every task that lasts over an hour. Another trick could be to generously account time for petty habits like showering, breakfast, and commuting. This will prevent you from the unnecessary rush in the morning. Most importantly, treat yourself to some freedom by keeping the last hour (of your schedule) free to enable you to wrap things up.
Leave room for unplanned times
Always plan for unplanned times. Personally, my Sunday afternoons are plan-free as this helps me enjoy my time and allow the flow to take me where it wishes. If you don't wish to entirely have a plan free afternoon, then put aside some days that are NOT overly scheduled. Trust me, this will be a game-changer and prevent you from frantically running from one task to the other.
Best weekly planners for 2022
1) Your weekly overview
If you are looking for a simple yet flexible planner that will keep you on track, then go for Your weekly Overview. The one-page planner allows you to indicate your everyday to-do tasks as well as other specific schedules that you plan to undertake during the week. With unique sections such as places to go and people to see, this planner will ensure that your social life remains great. The special reminders section is also a sure way to make sure that you never miss any important appointments or events.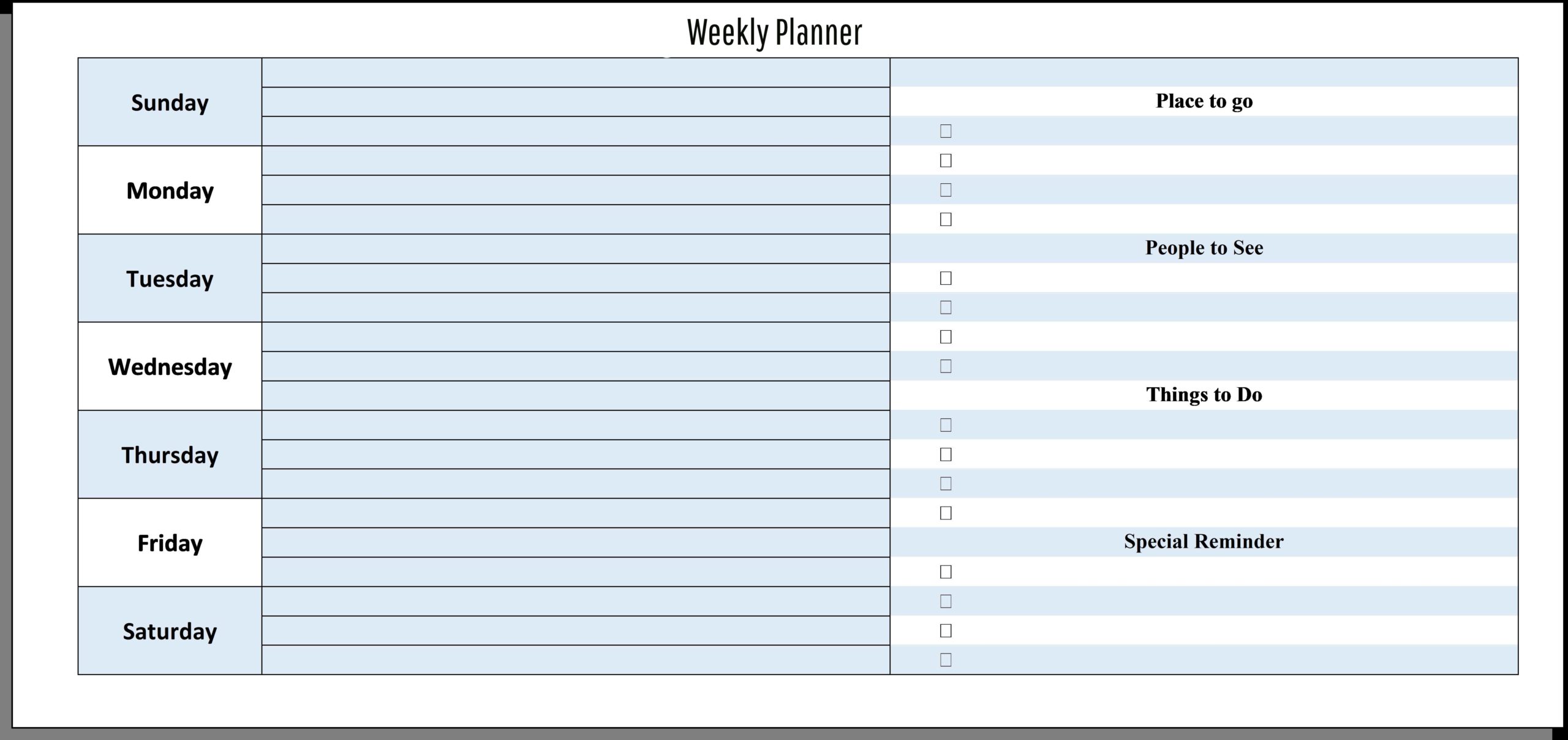 2) Weekly To-Dos
Are you a perfectionist? Do you like to ensure that no task is left unscheduled? The Weekly To-Do's is indeed the best planner that you need. The most important section of this planner is the weekly focus which allows you to outline the main goal and objective that you have for the week. Other key categories include the top things that you don't want to forget, tasks you must complete and those that you should do.
Considering that man is prone to forgetfulness, the planner allows you to note down the tasks that you don't wish to forget.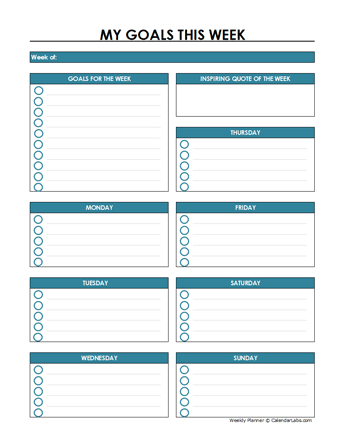 3) Bloom weekly planner
This planner features a daily planning section that runs from Monday through Sunday thus allowing you to write down your daily to-dos and crucial dates that you don't want to miss. The most notable section of the organizer is the additional shaded box that allows you to mark off your water intake to ensure that you remain hydrated every day. Other sections of this planner include weekly must-dos, an act of kindness you wish to undertake and a healthy habit tracker that will encourage you to get into healthy habits such as taking short walks, reading before bed among others.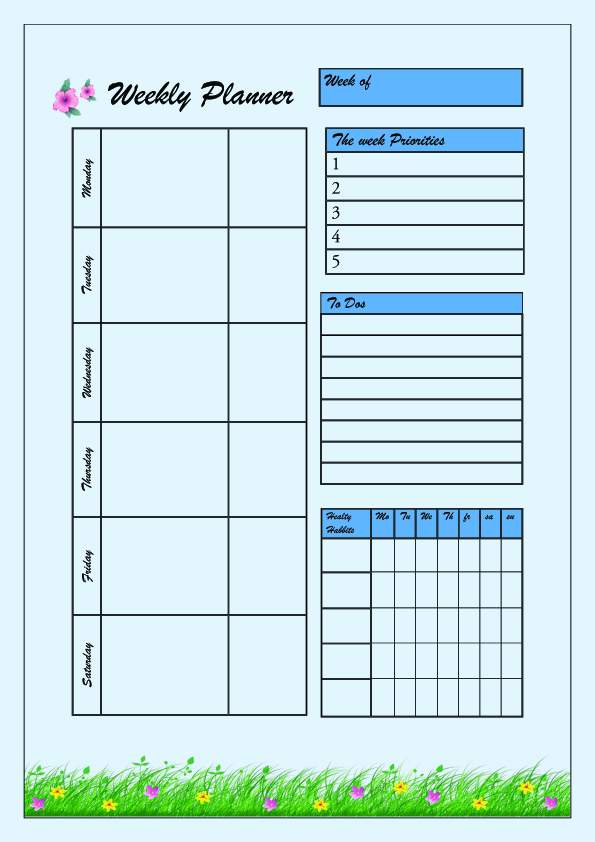 4) The Goldcoaster Weekly Planner
Do you like making merry of every little success you achieve during the week? The gold coaster gives you the ability to control your life by celebrating the happiest moments, successes and key activities you'd like to undertake the following week. Moreover, the planner further allows you to indicate weekly top goals, daily appointments, and to-do activities. Indeed, this is one of the best planners where you only focus on the most important things in life.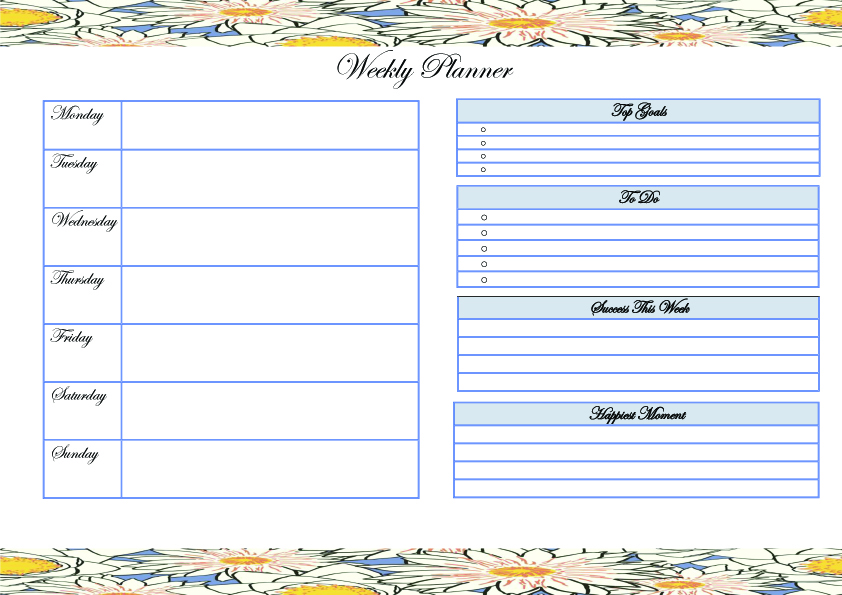 5) Weekly to-do list planner
If you need a simple organizer that will help keep up with all that life throws at you, then this needs to be your partner. The planner features everyday appointments and complete to-do tasks, calls you need to make, emails to write, 10 minutes projects you need to be done and short notes to enable you keep track of the week ahead.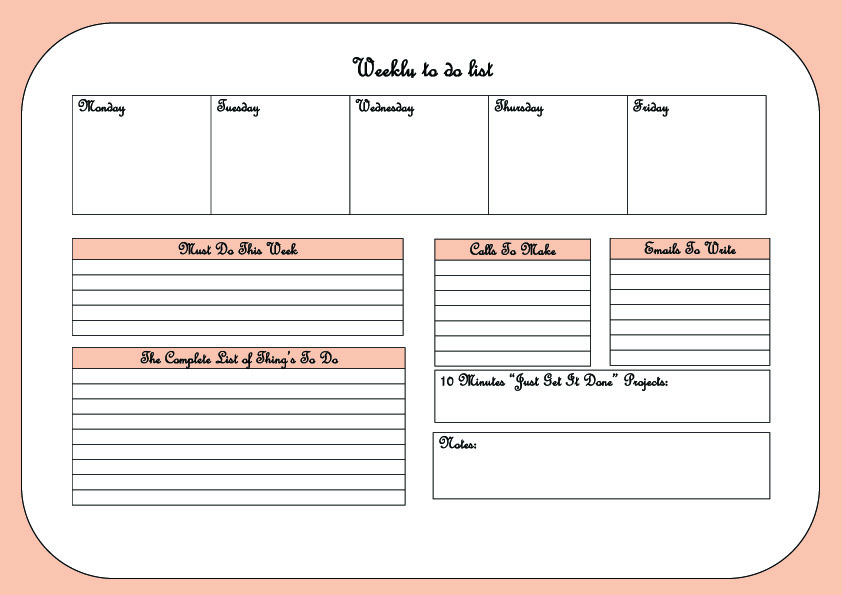 In conclusion, remember that a workable weekly planner cannot only make a great difference in your life but also save you hours of procrastination throughout the week. However, it's important that you opt for a planner that works for you and one that aligns with your schedule. In fact, you can customize one depending on your needs. One thing to always keep in mind is that consistency and discipline is all you need to achieve your goals.