You will agree with me that as much as time is valuable, planning is equally crucial. If you manage to master your time it becomes easier to adapt quickly to the everyday challenges in the contemporary world. On the other hand, if you are unable to manage your time, then you are left behind.
A good calendar is not only handy but it also keeps you organized all year round. With 2021 already here, it's important that you invest in a new calendar to ensure that your productivity heightens in the coming months.
The rapid technological progress has brought about the widespread of digital calendars due to their simplicity, convenience, and functionality. But does this mean that paper calendars are no longer in use and digital calendars have taken over? Not so fast.
Well, I know what you are thinking. A calendar? Yet I already have a handy calendar app on my smartphone and laptop. Digital calendars are indeed the most used in the present day, but there are many reasons why the popularity of paper calendars isn't dying any time soon.
Six reasons why you need a paper calendar
1) Because pen and paper help you recall information better
According to studies, when notes are written down by hand, it becomes easier to organize information and also recall details better. This is because the brain is actively engaged and focused on processing information and putting it in your own words. Therefore, what does this mean to your notes on the calendar? You remember important dates and appointments better.
2) Because they let us focus on what matters most
Unlike digital calendars, physical calendars do not have internet-related distractions. From incoming email notifications, chat messages and the temptation to surf your favorite websites. Paper calendars eliminate such distractions this allowing you to dedicate your time and devote your attention to the planning process as it unfolds.
3) Because they can be personalized
More and more people today, tend to pay more attention to personalized products- calendars included. You can decorate your desk calendar with calligraphy or even scrapbooking. In fact, most companies today allow you to design your own calendar with photos and other information you like, before buying it.
4) Because they are simply beautiful
When you need to know what day and date it is, you can simply check out your phone or watch the calendar. However, there is nothing that beats the beauty of glancing over to your wall calendar. There is everything stylish about them. From custom photography, simplicity, inspiration to the great feeling of ripping off the page of a past month and flipping to a new one.
5) Because they do not require a battery
Unlike smartphones and computers, a paper calendar is independent and doesn't rely on internet access or battery life to offer services. Similarly, with a paper calendar, you do not have to worry if technical glitches arise to your gadgets leaving you in a position that you can't use them.
2021 Calendar Templates
There are different calendars available. You can use the 2021 calendar template according to your requirements. Some of the famous templates are mentioned below:
1) Classic Calendar
If you are looking for a simple design calendar, then go for this. The one-page calendar offers you a year at a glance view making it easy to locate a date could be searching for. The right side of the calendar features a blank space jot down important notes. This could be birthdays, important events or meetings you don't wish to forget. The best thing with this calendar is that you can customize it the way you would wish- this could range from changing the color scheme, the general layout or even highlighting the public holidays.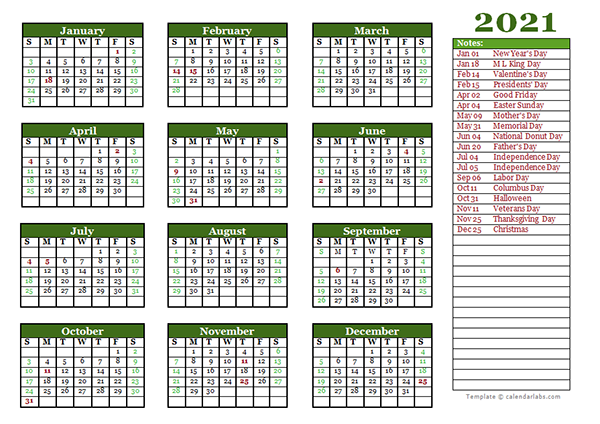 2) Horizontal Calendar
Do you love trying out new ideas? Then a horizontal calendar is something you should try out. The unique design allows you to take a break from the traditional blocky calendars. Considering all days are lined up in a long horizontal format, it's easy to see the duration a project takes since the distance is directly equatable to time. In addition, the calendar includes the US federal holidays and observances to enable you to organize for family gatherings, getaways and meet-ups during these days.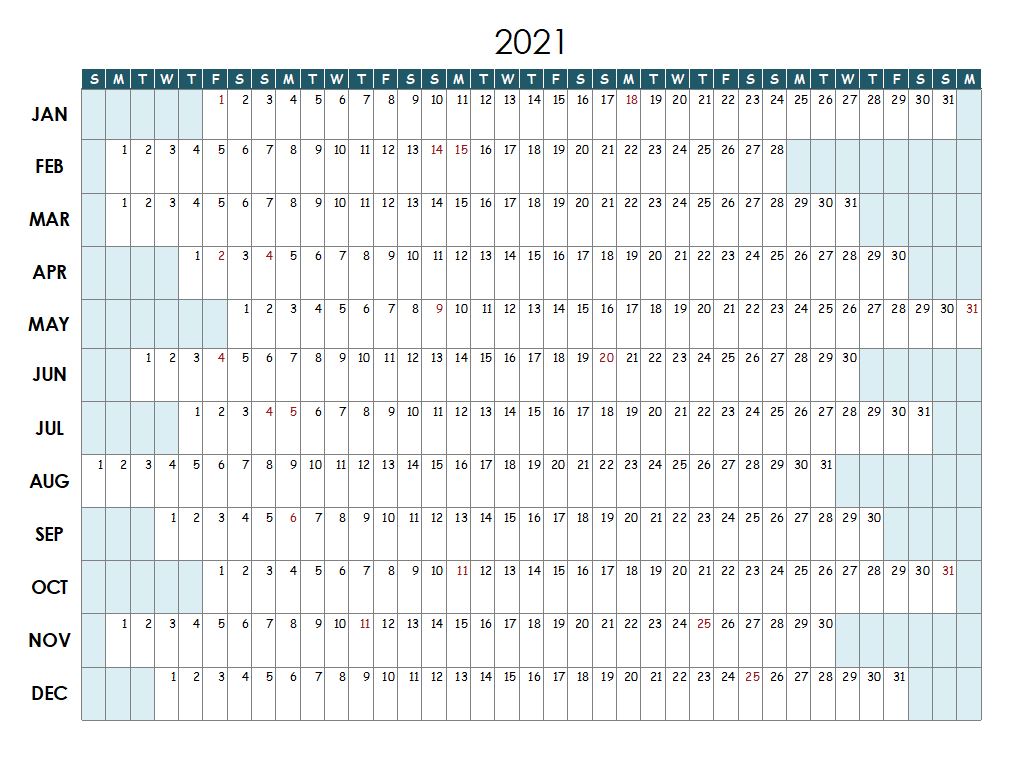 3) Compact Design Calendar
Unlike the traditional calendar where time is chunked in months, the compact design is presented in a continuous bar of time. When planning, the calendar comes handy in assisting you to know how many days are available when you have critical deliveries to make and the much calendar time you have remaining to finish a task. Additionally, with the compact calendar, it's easy to keep track of weeks especially if you are working on a long term project. The right side of the calendar has enough room to write down your notes. This means that you can doodle estimated times for completion of projects, circle important dates as well as underline ranges and doodle estimated times for completion of projects.

4) 2-Column Yearly Calendar
This one-page calendar with two columns makes it ideal for a minimalist. Next, to each month are clearly highlighted US holidays. The boxes are large enough giving you a chance to write down important notes. The calendar is editable making it easy to customize it to your taste. Better still, you can opt to move the blank boxes in between the calendar months or according to your liking.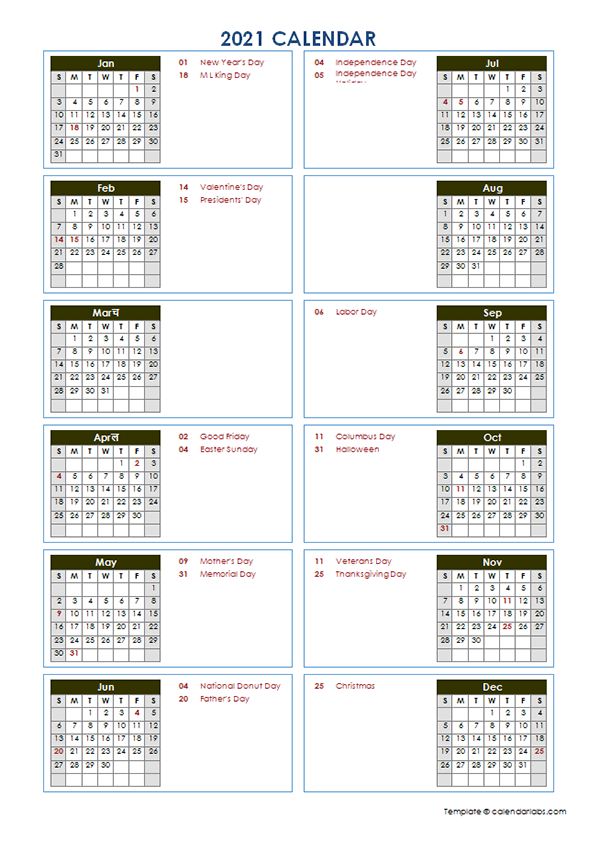 5) Rainbow Calendar
Rainbows are not only spectacular but their beauty symbolizes hope in many societies. Sometimes, all we need is a colorful calendar to cheer us through the year. This single page design in the landscape orientation features each month of the year in a different color. The weekends and holidays are colored for easy planning.
The months are organized in a horizontal manner while the days are vertically presented. The US federal holidays and observances are clearly indicated against the date they occur. Additionally, there is enough space next to all the days just in case you would like to jot down some short notes like birthdays, appointments or important events.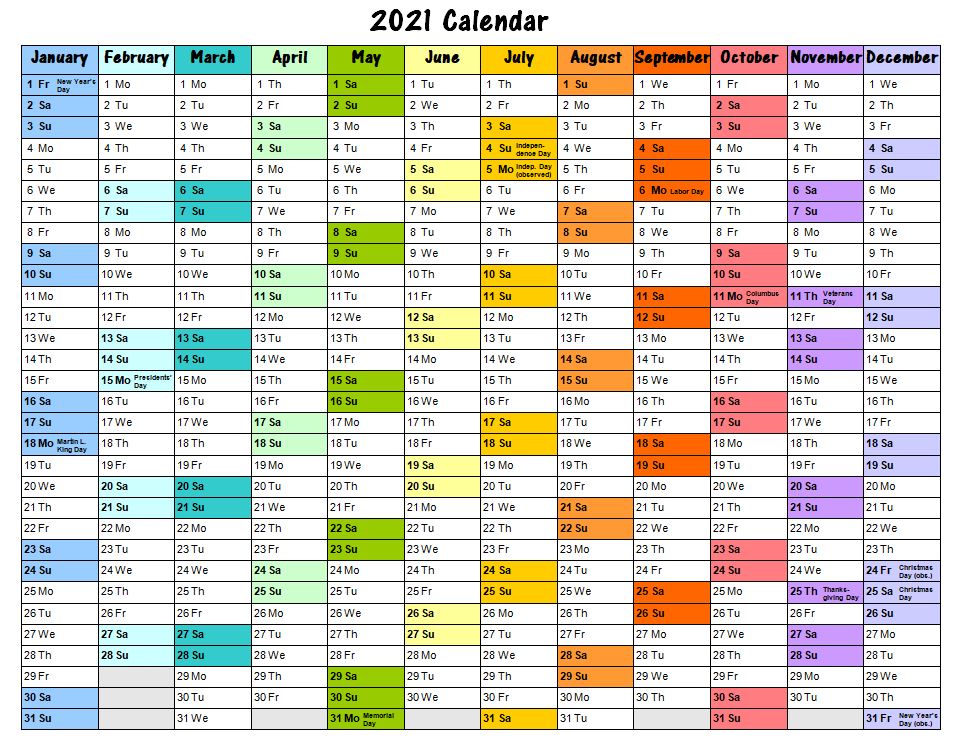 Finally,
One last thing, to get the most out of your calendar, you need to keep it in a visible and easily accessible location. You will also need to be interactive with it by jotting down important notes on it. Otherwise, the calendar might remain a forgotten entity throughout the year.